---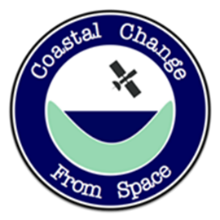 Coastal Change from Space
ARGANS Ltd, a world leader in coastal change monitoring, is developing a global service for monitoring coastal erosion, environmental risk assessment, and research on the potential impact of climate change on the coast, including sea level rise and effect of increasingly dynamic weather systems.
We lead a project commissioned by ESA to assess the end-user benefits from such a service, bringing together professional geomorphological expertise from partners at the British Geological Survey (BGS), the Geological Survey Ireland (GSI), the Environmental Hydaulic Institute Cantabria and Arctus, working with the University of Quebec, Rimouski (UQAR) as part of a Coastal Change consortium.
ARGANS Ltd is focused on conducting assessments over 25 years using a range of satellite sensors such as Copernicus Sentinel Multispectral and SAR data, USGS Landsat data supported with a blend of some commercial data provided by the ESA Third Party Mission programme. Monitoring Coastal Erosion by employing a range of innovative Satellite Imagery techniques enables a large spatial scale and a high temporal and spatial resolution to be delivered in an affordable manner which can be made applicable to anywhere around the world.
---
25 year timeseries
Spanning 25 years of data from Copernicus/ESA Sentinel-1, Sentinel-2 and USGS/NOAA Landsat archives to provide a timeseries.
1000
km

coastline

Covering over 1000km of coastline over 16 study sites in Canada, Ireland, Spain, and the UK with diverse environmental conditions
User Focused
Case studies providing products driven by the needs of the user community and validated by national experts.
Global Scope
Engaging with scientists and end users alike to develop from a monitoring service into a risk assessment and prediction service.
Products & Services
Waterline
A LiuJezek_CoastL processor using Sentinel-2 and Landsat images can distinguish between the sea and land and so detect the waterline. Very High Resolution (VHR) commerical satellite images, are used to correct pixel offsets, or co-register, so improving spatial accuracy.
The image is of Wexford Bay in Ireland, one of the case study sites selected by our partner, Geological Survey Ireland.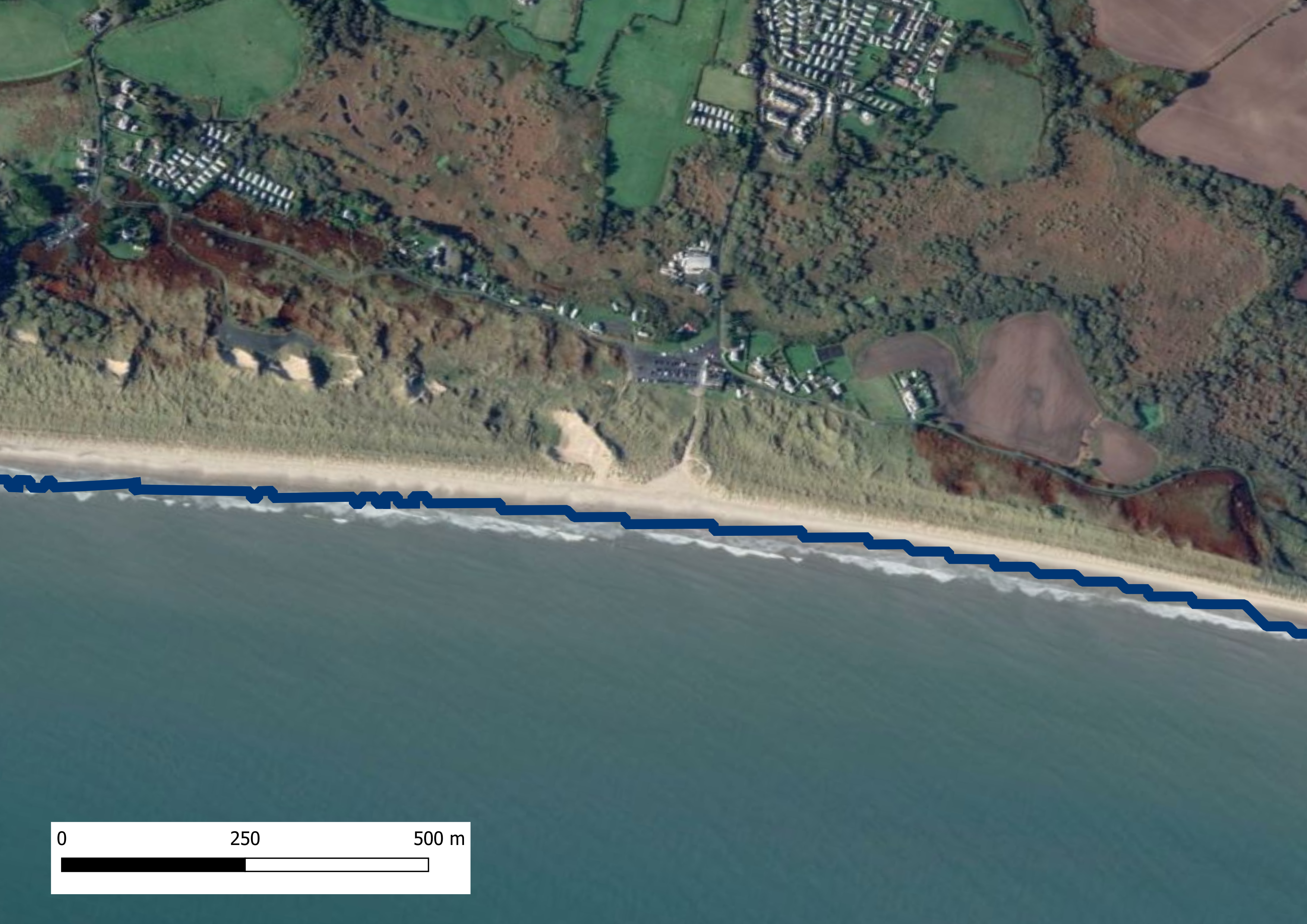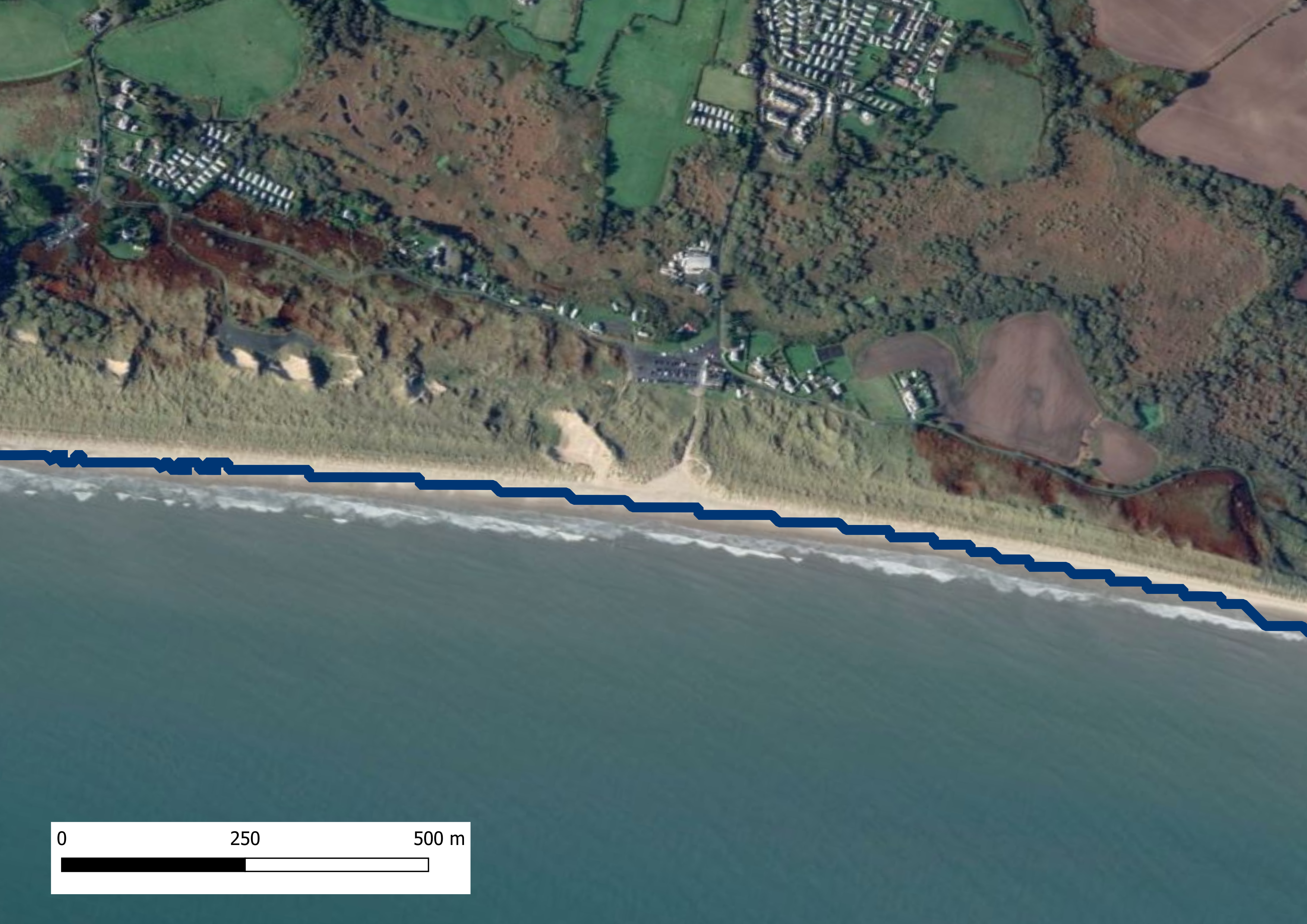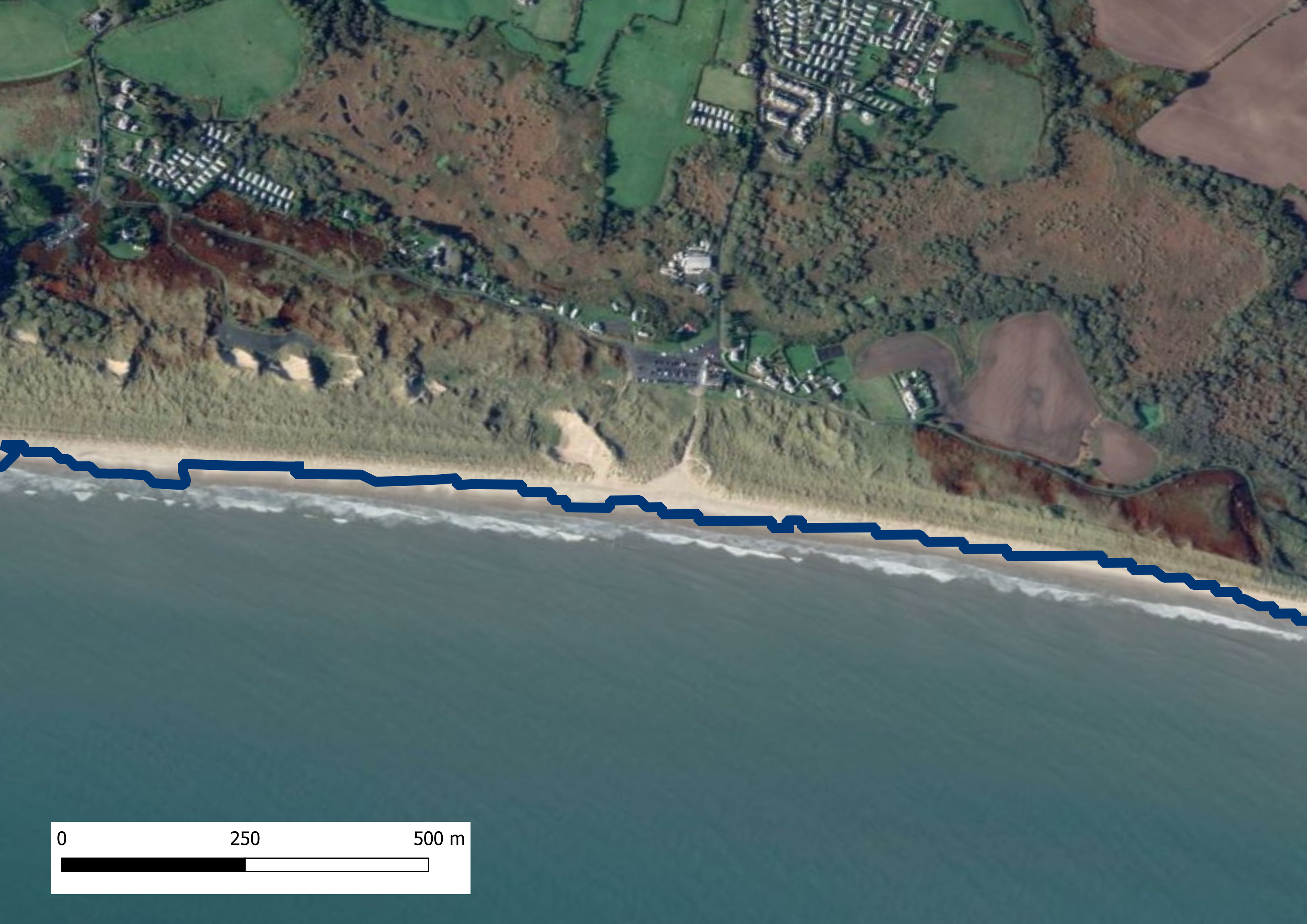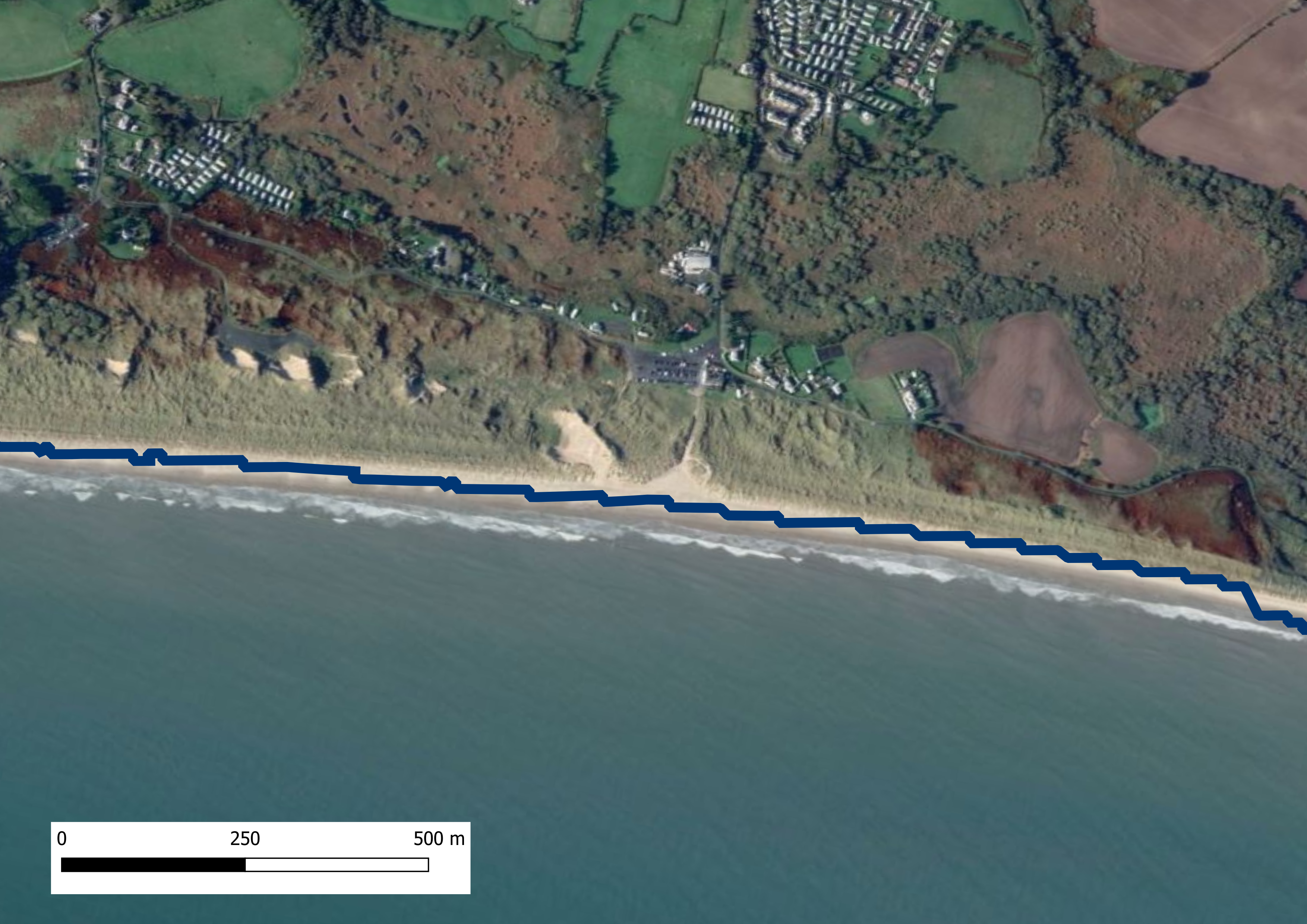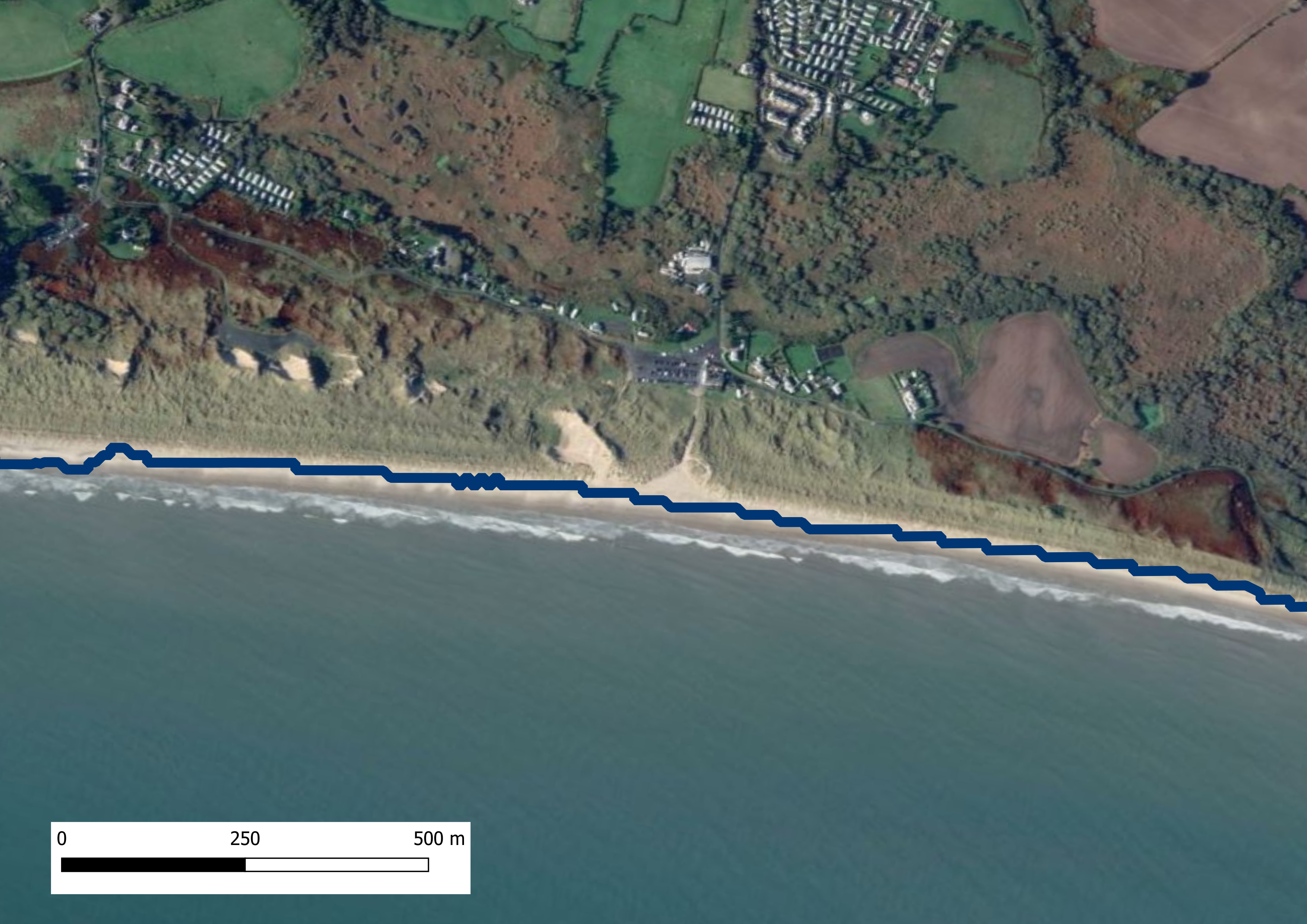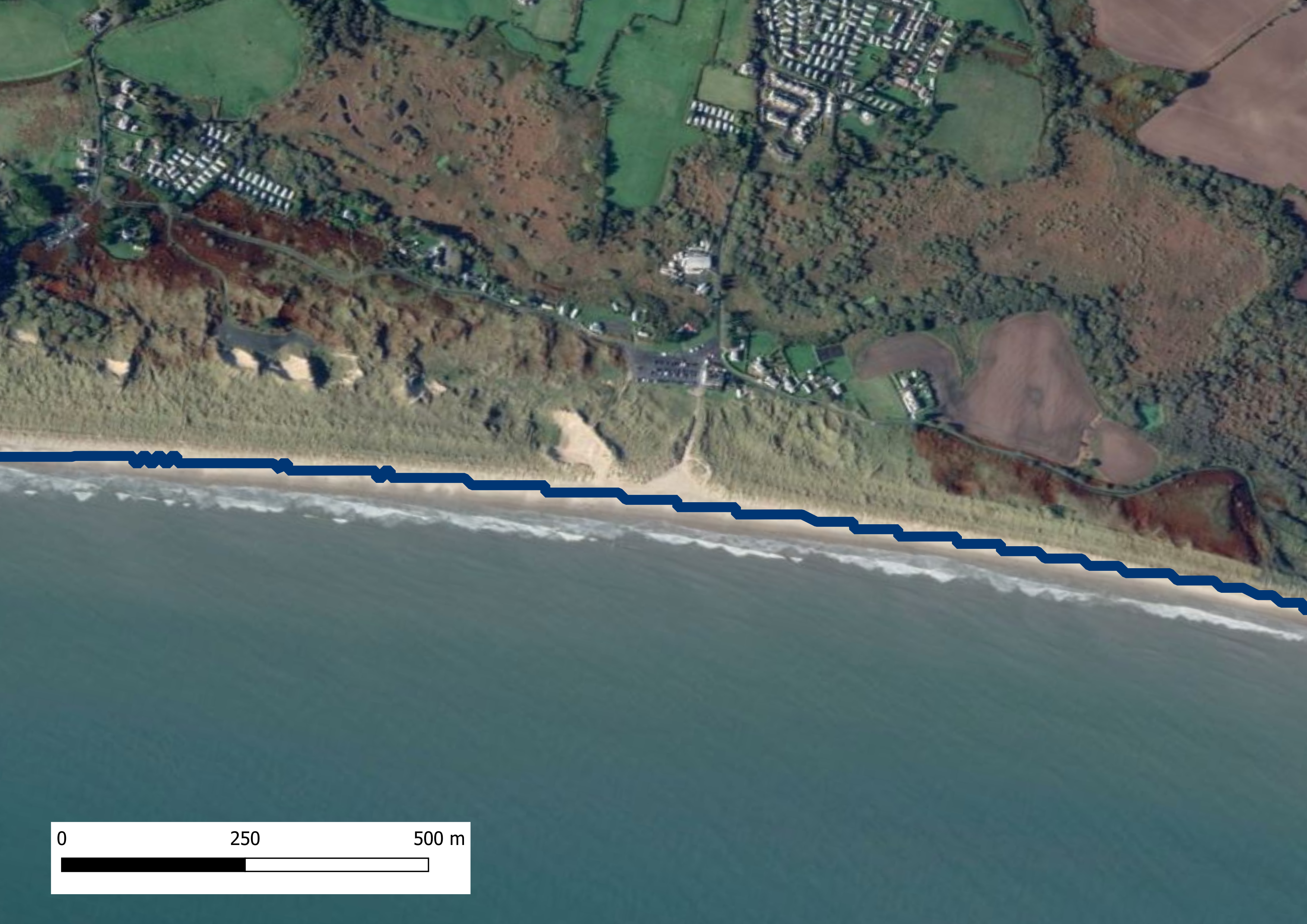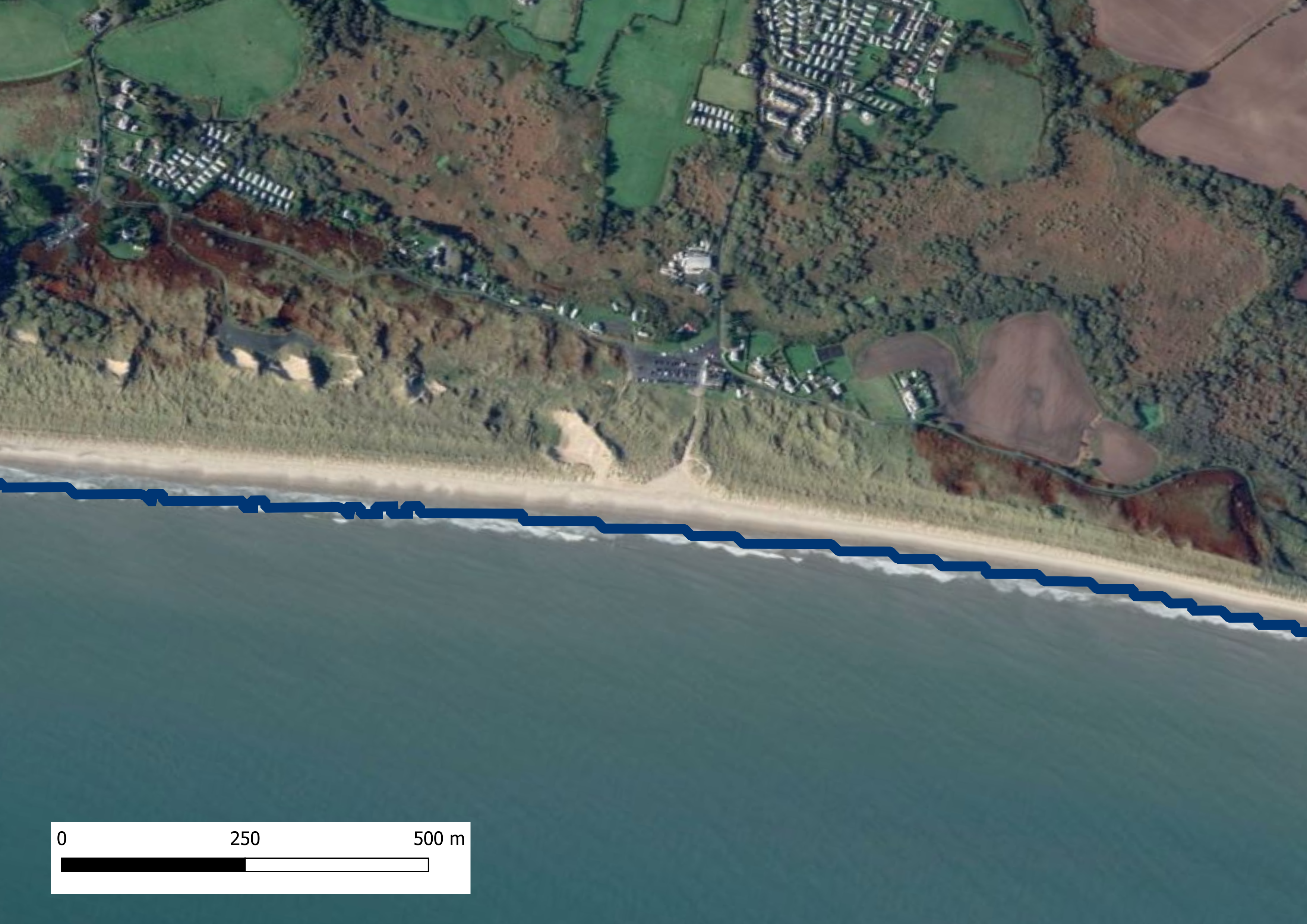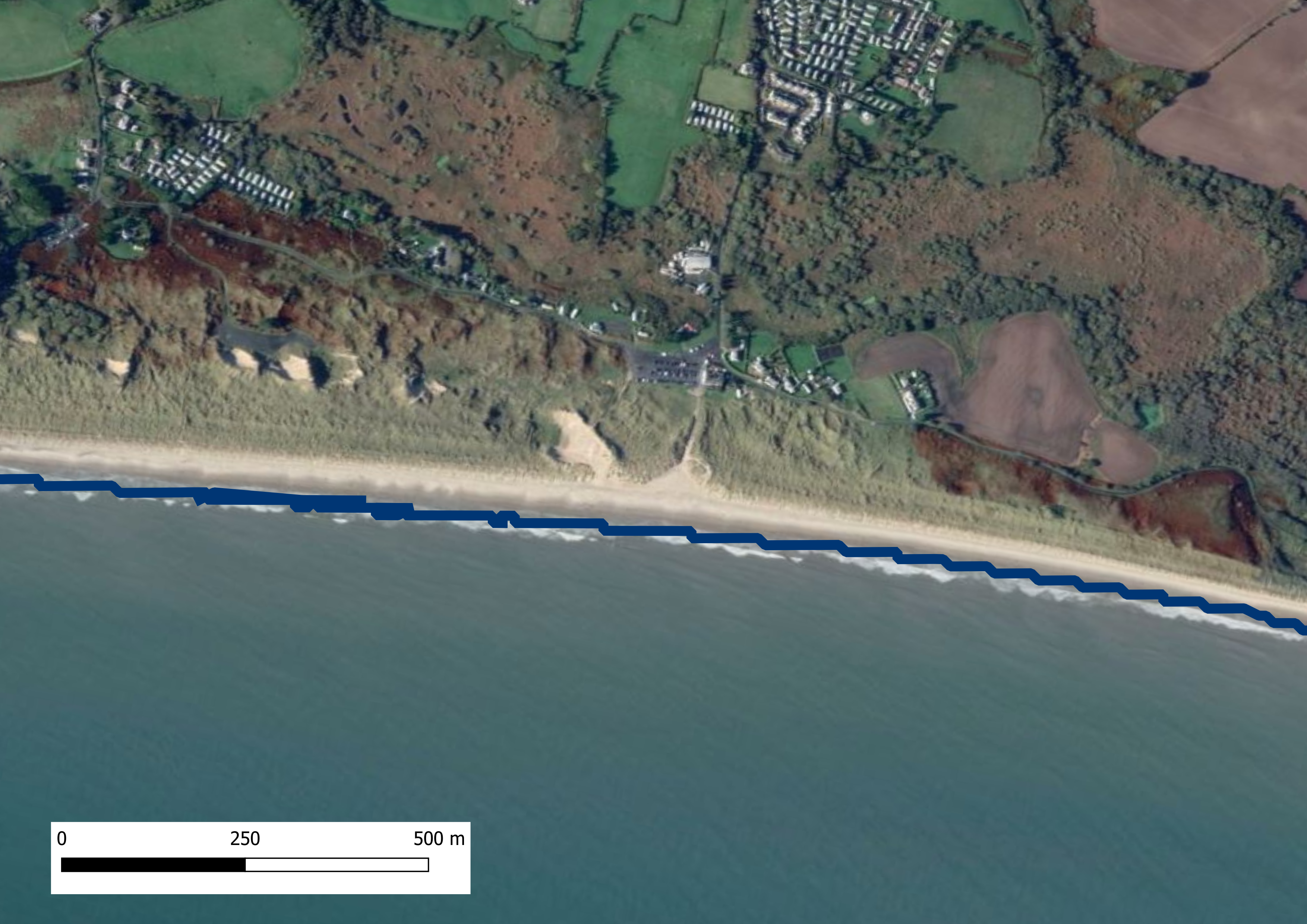 Shoreline
A waterline is a snapshot in time, varying with the tide. Taking into consideration the beach profile and adjusting to a tidal datum produces a shoreline corresponding to a mean or extreme value of tidal elevation.
The animation is of the shoreline corresponding to Highest Astronomical Tide (HAT) datum at Wexford, Ireland.
Bathymorphology
Another approach uses satellite derived bathymetry (SDB) techniques to monitor seabed change in coastal environments to aid the quantification of sediment transport in the nearshore.
This image of Guadeloupe is taken from our ground-breaking SDB programme showing a Sentinel-2 image overlaid with the processed Digital Terrain Map (DTM) image. This can detect any changes in the seabed that have occurred.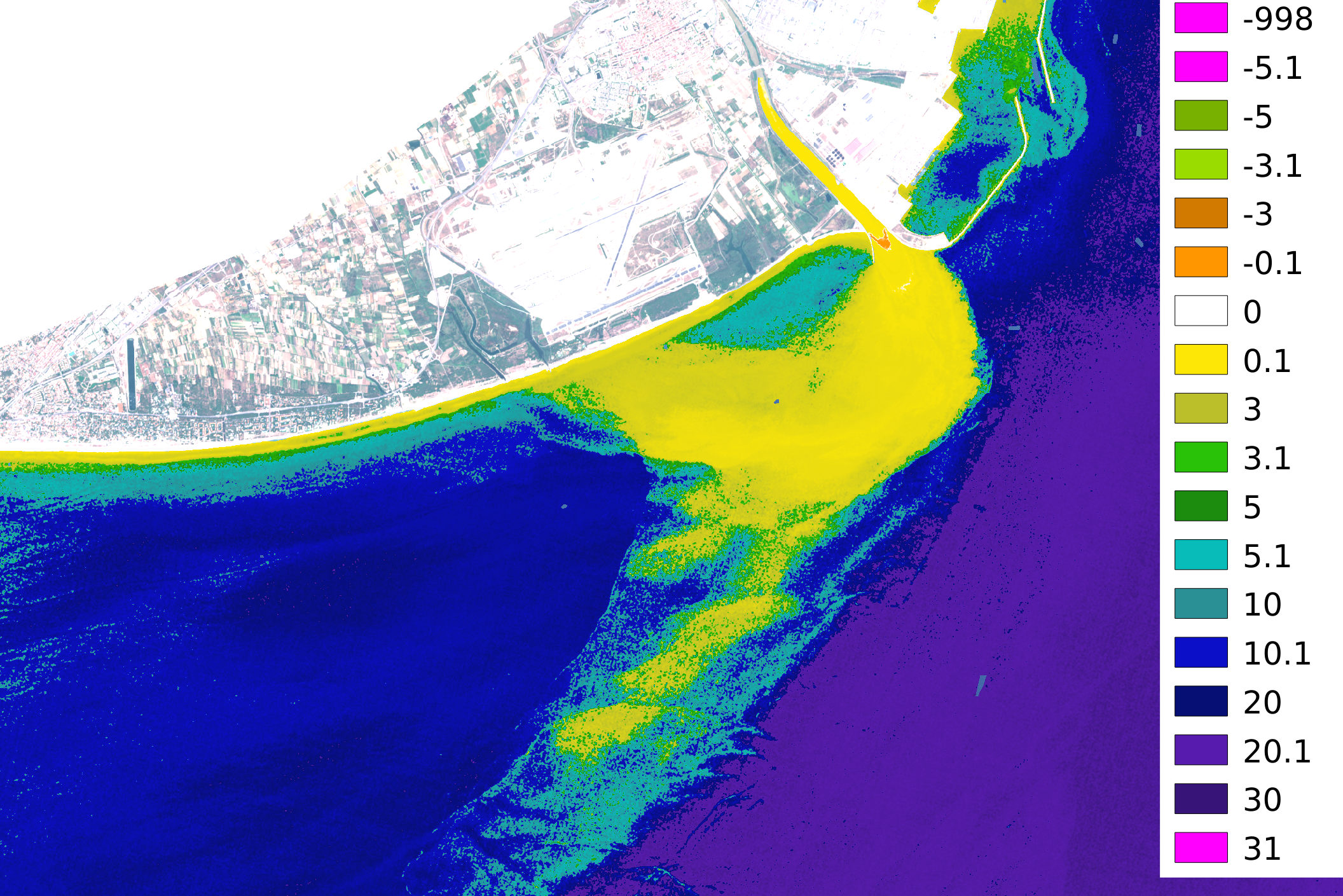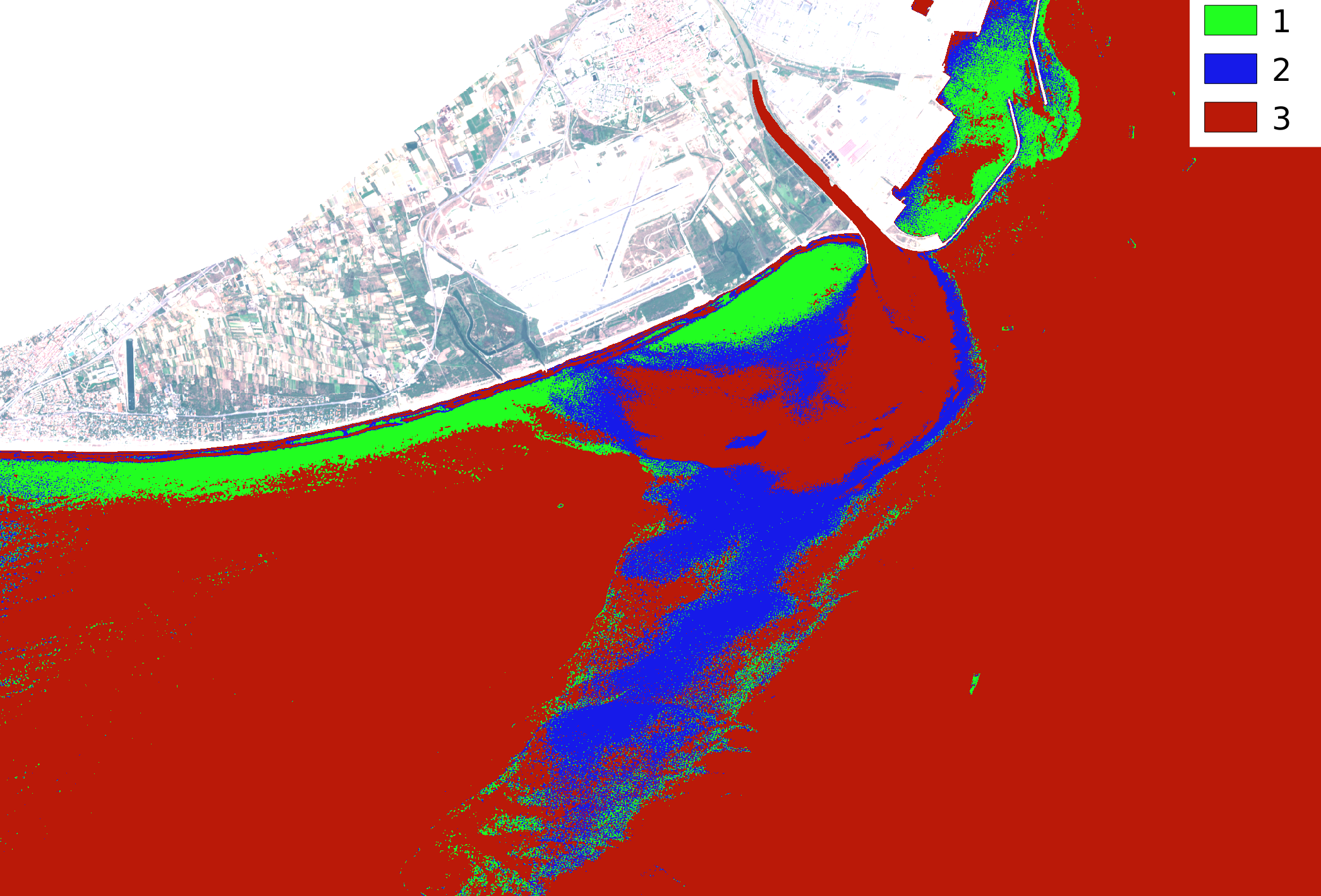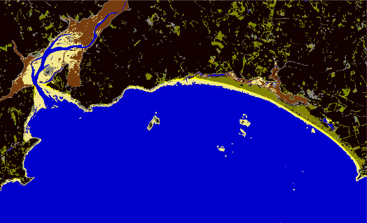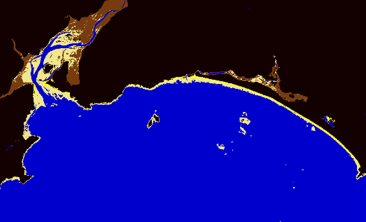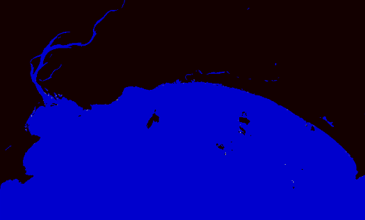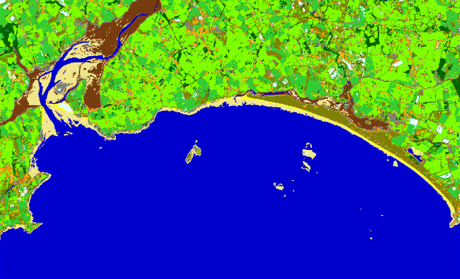 Feature Classification
A supervised learning algorithm is used to extract three areas of interest: the backshore, with land features masked, the littoral zone, composed of beach and tidal zone and the ocean, with no coastal or land features.
The animation is of the land use classification map generated for Waterford, Ireland.
---
---
Quality Assured
Product verification and quality control are important, especially in an innovative sector where novel products are generated.
New QA techniques are under continual development, as here where a heatmap has been generated from our archive of generated products. This can be used to detect and remove false results.
Product Validated
Our partnerships with teams providing professional geomorphological expertise enables products to be validated using a variety of independantly sourced data.
This image of the Wash, UK showing a close match between the ARGANS generated shoreline and a LiDAR scan.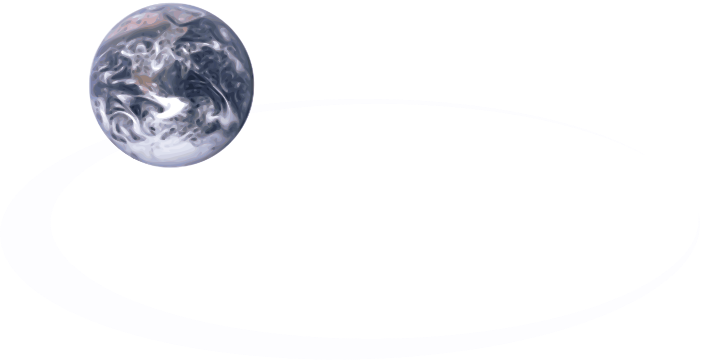 Consortium
ARGANS, is a UK-registered company with headquarters based in Plymouth UK, offices in Sophia-Antipolis and Brest, and staff located in London and Southampton.
We are specialists in satellite-based Earth Observation, remote-sensing applications and services, and geographical information systems used to map and monitor the marine, atmospheric and terrestrial environments. The team at ARGANS are also industry standard professionals in coastal charting through the application of satellite derived bathymetry.
ARGANS offers satellite mission solutions across a range of services, including development of ground segment algorithms and applications, data quality assessment and validation, or operations on behalf of space agencies, while keeping a strong scientific expertise in remote sensing science.
The company has forged strong partnerships through joining consortia both as prime and sub-contractor with UK, European and International entities: companies, research institutes, universities and individual scientific consultants.
---
In association with our partners:
---